Library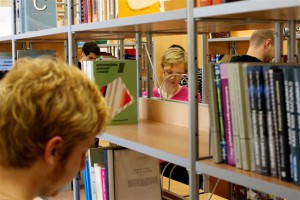 Contact:
Polytechnic of Međimurje in Čakovec
Library
Bana Josipa Jelačića 22a
40000 Čakovec
Phone:      040/396-985
e-mail:   knjiznica@mev.hr
Head librarian: Petra Horvat, mag. bibl.
Opening hours:
Monday, Tuesday, Thursday and Friday 7.30-15.30
Break 11.30-12.00
Wednesday
10.00-18.00
Break 13.30-14.00
THERE IS NO LIBRARY REGISTRATION FEE. When registering a student have to present a student transcript book (Croatian "Indeks").
The Polytechnic Library is a higher education library of a special type. It is intended for full- and part-time students, teachers and non-teaching staff of the Polytechnic, as well as external users who are interested in professional literature and professional education.
The library purchases, processes and offers to use the professional course and seminar literature. The library fund covers the fields of computing, economics, management, marketing, mathematics, physics, electrical engineering, foreign languages​​, thus covering all study programmes of the Polytechnic.
The library also contains reference books (dictionaries, lexicons, encyclopedias), and newspapers and journals for working in the reading room.
In the reading room there are 4 computers with the internet access, and 9 work places.
Services:
Borrowing library materials – two books can be borrowed for a period of 14 days (with the possibility of prolongation, except in the case of higher demand for the book)
Information and referral activity
On-line database search
Inter-library loans
Using a computer
Using the reading room
Organizacija javnih okupljanja – skripta
Tjelesna i zdravstvena kultura – skripta